Whenever someone asks where I'm from, I have to stop and think. The answer isn't that simple - I was born in Hong Kong, but my parents are from Malaysia and Korea. I spent the first few years of my life in HK, but the rest in Malaysia, and now I'm back in HK. And no, I do not speak Korean. So I think I'm "officially" a Hong-Konger, but I'm Malaysian at heart, with Korean blood and looks. uhh.....I confuse myself.
- Apple
For me, I've grown up in the UK all my life- born and raised there, I look Chinese, and my parents are from Hong Kong but honestly HK confuses me and there are still some things I don't understand. I've never felt like I fully fit in the UK either, but I don't feel at place in HK. Always drifting between the two, problems with intercultural identities.
-Sophia
Even though I can blend in, sometimes I still feel like an outsider in this city that never sleeps. These are some thoughts I have as a half-foreigner in Hong Kong, maybe you can relate.


1. WHY IS THERE SO MANY PEOPLE?!
There are queues at the MTR, at the restaurants, at the doctor's clinic, at the mall's washroom, outside Louis Vuitton, at the pet groomer's, at the pharmacy, at the club - if there's one place where there's more grass than humans, it must be Hong Kong.
Just look at Mongkok (HK's must-visit hot spot), the district with the highest population density in the WORLD.
130,000 people per square kilometre. Fwoah...How is that even possible?!
Hong Kong Mongkok
Hong Kong Mongkok Houses


2. THE RICH ARE SO RICH, & THE POOR ARE SO POOR.
I know someone who has three Filipino helpers (one cooks, one cleans, the third I'm guessing is a backup?!), lives in a three storey semi-detached house, buys tea leaves that cost HKD$20K, and has never rode on public transport.
I also see, every day as I walk to work, a frail-looking old woman who must be in her 80s or 90s, picking up cardboard boxes that shops have disposed of, to sell to collection companies for money.
An old woman who collects cardboard to exchange for money.
I once asked her when she was pushing a trolley piled full of cardboard how much she can get for that. She said, HK $10.
Just stop and think about this for a minute.
3. THERE IS FOOD FROM EVERY COUNTRY IN ONE DISTRICT.
Hong Kong Dim Sum
Foodies out there, Hong Kong is the place to be!
4. PEOPLE HERE WALK SO FAST!
When you're on the street, you can always tell who is local and who isn't. And I don't mean from the colour of their skin, I mean from the speed that they walk. Hong Kong people are always, as they put it in their own terms "趕住去投胎" (rushing to be re-incarnated), which is a funny saying that means spirits have to rush to the place of reincarnation within a certain period of time, or they will end up as drifting ghosts forever.
Hong Kongers Walking Fast
Friends of mine who've come from every corner of the world, be it laid back Malaysia, bustling Singapore, busy London, Spain, Denmark or Korea - always find that when they return to their own countries, they've developed a faster walking pace than the norm after being "brainwashed" by HK's speed.
5. EVERYTHING ELSE IS ALSO VERY SPEEDY.
HK's Metro System (MTR) is one of the most efficient in the world. The cashier lady at 7Eleven can serve at a speed of 1 customer/30 seconds. We have a freakin' (amazing) Octopus card system so we can pay everything by touch-and-go, from the MTR, bus, convenience store purchases, supermarket groceries, movie tickets, etc. Ain't nobody got time for someone to slowly count their small change.
Hong Kong's Octopus Card
Actually if you're slow, you will get a lot of angry glances and Tsk Tsk's coming your way. Pressure is on, people!


6. PEOPLE TEND TO BE QUITE EMOTIONALLY CLOSED OFF
Maybe this is usually the case for most cities, but I feel that people here tend to distance themselves emotionally from others. I often feel there's a lack of heart-to-heart conversations with my local friends. The mindset here seems to be that family is always key, and friendship is merely companionship. This is just me speaking from personal experience by the way (friendly HK readers please don't feel offended). In this concrete jungle, people are always busy making money to survive &

people don't know their neighbours.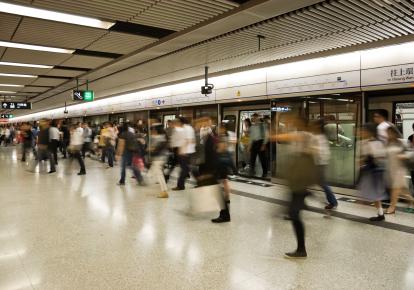 Hong Kong Rush Hour
There is a lack of trust in this city. Perhaps it's because it is important to hold a certain kind of status in this realistic society. And perhaps revealing true emotions or allowing yourself to fully trust someone is just too much of a risk. A vulnerability.
I feel that Hong Kong has moulded me into a more stoic individual.
7. WHY ARE PEOPLE ALWAYS LATE?
For me growing up in the UK, it's quite rude to be late to things, but I've noticed that yes- Hong Kong people like to rush around (they will literally run to the MTR even if the next one will be in another minute) yet they walk into work 5 to 10 minutes late (sometimes even later!), whistling without a care in the world. As well as going into meetings later than their starting time too.
8. THE PDA!
For a city that stares when I wear bright red lipstick or wear a top that is considered 'low cut' here, the PDA of couples is intense. Going back to the point of people being quite emotionally closed off here, when it comes to displaying affection, they go all out. Expect when you go on any escalators here, the said couple will turn to each other and start making out.
9. CRAZY WORKING HOURS
Hong Kong people are definitely hard working, usually people use the excuse 'I've been working really long hours at work, I can't make so and so...' but here, it's probably the truth. I know people here that work till 9pm every night, and even have to go in on Saturdays too. There are rumours that people are overtiming to make themselves look good, but when will this culture ever end? Why can't people work more efficiently and finish on time. Work will always be there and it will never end, so why waste extra hours when it won't ever mean the workload will reduce. Work smart.
10. CAMERA EATS FIRST
The mobile phone is pretty much glued to your hand here, each time you sit down for a meal, the cameras will come out and people spend a good 5- 10 mins taking pictures of the food, with the food- (be careful, you might drop it!), so there's a saying called ' the camera eats first.' I've begun to become slightly guilty of this too, but we do have a blog instagram to update ;)
11. MAINLAND OPINIONS
This is a controversial topic, as of now Hong Kong is part of the People's Republic of China, therefore it means a lot of visitors from mainland China come to visit Hong Kong each day. They are known to bring their suitcases and buy a lot of products because Hong Kong is safer for things like Milk powder, beauty products etc. There was a milk powder crisis in Mainland China a few years ago- milk powder was contaminated with nasty chemicals which led to a lot of Mainland China people coming over and buying milk powder. This led to a decrease in supply for Hong Kongers. Nowadays places are known as Mainland China tourist hotspots. There are also crisis with Mainlanders being rude, or

defecating on Hong Kong public transport. Hong Kongers hold a very strong and negative opinion towards Mainlanders which is a shame because the ones that do this, is the extremely small population of mainland China tourists and they are giving a bad name to them.
12. LACK OF PERSONAL SPACE (CLAUSTROPHOBIA ALERT)
Hong Kong is a very crowded area, and I'm definitely used to roomy England where people have oodles of space to queue and do their things. I've noticed that personal space really isn't a thing here. From sardine packed MTR carriages and buses to even crowded lifts. When I'm using an ATM here, this for me is a very private thing- I'm entering my personal bank account details but I can literally feel a person behind me hovering and breathing down my neck. It makes me feel extremely uncomfortable - just give me my personal space dude!
13. AIRCON GAME IS STRONG HERE
Hong Kong is definitely humid, but the air con here is turned up to the coldest. You need to pack clothes for two types of weathers here- the humidity outside- a fan, some water, but inside it's a whole other temperature- you need your scarves and jackets because it feels like the arctic in some places. Shopping malls and hotels are a big fan of colder temperatures- I think they just want to kick us out!
14. SECRET TRANSPORTATION
Transportation is definitely something I love about Hong Kong, it's extremely convenient and if I'm ever lost I know that I just need to look for an MTR sign and I can pretty much find my way home. However, if I want to find some other alternatives to get home, for example the minibuses- it's a whole secret society here. There are no clear signs for where the minibus stops are and it's a back and forth game of trying to find where the stop is, in the end I just give up and call a taxi. My friend once told me she spent half an hour with her husband looking for one of these 'special mini buses' to get home. Think of the Night bus in Harry Potter- it's more efficient than the minibus locations here.
15. PIGEON CAGE HOMES
If you've ever complained that your apartment is small, consider the living space of some HK people. I kid you not, 'pigeon cage homes' or 'cage homes' is an actual term for human habitats in some areas in this city. You've probably heard that HK is notorious for its sky-high housing prices, leaving some without a choice but having to succumb to habitats that obviously too small for living. I'll let these pictures speak for itself.

HK Housing
HK Cage Homes